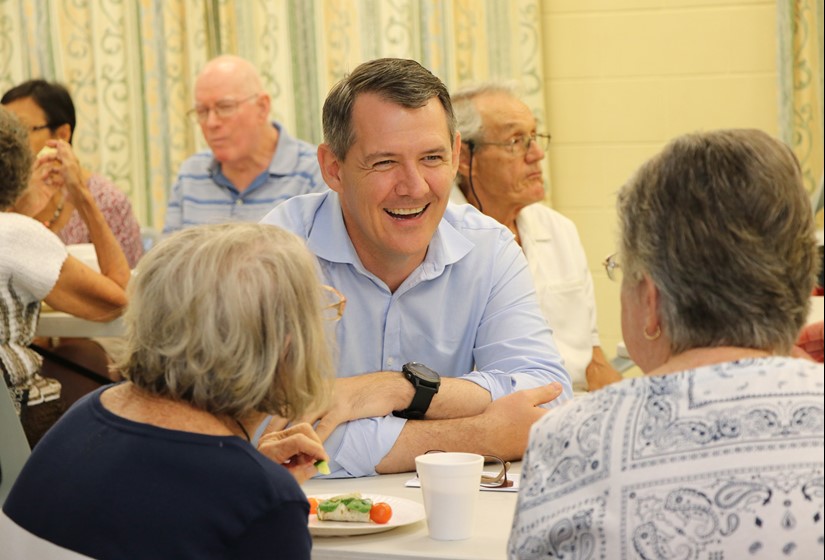 Michael Gunner is the member for Fannie Bay and the Chief Minister of the Northern Territory.
He is a fourth generation Territorian whose family have lived and worked here since the 1930's.
Michael was born on 6 January 1976 in Alice Springs, NT. He did his junior schooling in Alice Springs and Tennant Creek. He attended high school in Darwin and completed a Bachelor of Arts degree at the Northern Territory University.
His personal values were shaped growing up in a family that earned its living from small local businesses … from newsagencies to removalists, from stock work to mining, his family has worked and lived throughout the Territory.
Like many Territorians Michael loves his sport. He has represented the Territory in Rugby Union and at various times has played cricket for PINTS, and soccer for the Verdi Club in Alice Springs. Occasionally and as time permits, he still turns out for Waratahs Hockey Club.
The biggest barramundi he has caught so far is 78 centimetres long and he is an enthusiastic amateur chef who describes his best dish as Sicilian lemon chicken.
As a young person Michael worked stocking shelves at Woolworths and at university as an electorate officer. He also worked as a senior Government ministerial adviser between 2001-2008.
Michael was first elected to the Northern Territory Legislative Assembly in August 2008, following the retirement of former Chief Minister Clare Martin.
His experience serving in Government from 2008 to 20012, as the Member for Fannie Bay, helped him develop a deep understanding of how Government works.
As Chair of the Public Accounts Committee for four years, he also exposed the inner workings of Government to proper public scrutiny.
He became Leader of the Northern Territory Branch of the Australian Labor Party on 23 April 2015 and was elected Chief Minister of the Northern Territory on 31 August 2016.
As Labor leader Michael's key approach is to seek a rational balance to policy development. This approach is also based on applying broadly based principles of social equity.
Michael is married to Kristy O'Brien.
Contact
Shop 5/36, Parap Place, Parap Shopping Village, Parap NT 0820 
PO Box 11, Parap NT 0804
Email: electorate.fanniebay@nt.gov.au
Phone: 08 8999 6437