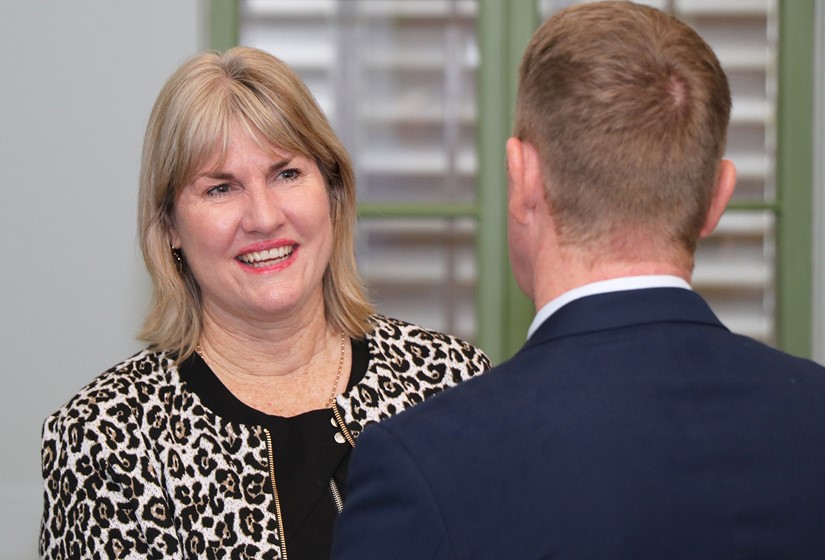 Eva Lawler, the Member for Drysdale, was elected to Parliament in the August 2016
Northern Territory election and was appointed as the Northern Territory Labor Government's
Minister for Education. In June 2018, following a change of portfolios, Eva was appointed as
Minister for Infrastructure, Planning and Logistics and Minister for Environment and Natural
Resources.
Eva was born in Darwin and completed a Bachelor of Education before beginning her career
as an educator. Eva also has a Masters in Education, a Masters in International
Management, a Diploma in Project Management and an Associate Diploma in Public Service
Management.
She started her career as a teacher in the 1980's. Eva worked in a number of schools in the
Darwin and rural area as a teacher, Assistant Principal, and a Principal over a period of
fifteen years. She then worked in curriculum development and in delivering professional
learning to educators. Eva moved into executive positions in Education in Alice Springs and
in Darwin and was the Deputy Chief Executive School Education for the Territory.
She has also worked in Event Management in Sport in the Territory for three years, working
in partnership with peak sporting bodies to deliver top quality sporting events for Territorians.
Eva's family have been in the trucking and earthmoving industry in the Territory since the
1950's with her father and brothers involved in the supplying and delivery of materials for
civil projects.
Eva believes strongly in the benefits of a 'home grown' workforce of Territorians being
educated in the Northern Territory, and using their knowledge, skills and experience to
benefit their community.
Contact
Shop T53, Gateway Shopping Centre, 1 Roystonea Avenue, Palmerston NT 0830 
PO Box 400, Palmerston NT 0831
Email: electorate.drysdale@nt.gov.au
Phone: 08 8999 5397